Founded in 2006, Carr Manufacturing Company, Inc. is a woman-owned corporation with an emphasis on custom products and individualized service. We don't believe in one-size-fits-all solutions; our streamlined manufacturing process enables us to give each of our clients the care and service they deserve.
We offer custom cable assembly at competitive prices, with expert design assistance and rapid deliveries. Additionally, we are proud to provide our services to the aerospace and military sectors, with high-quality mil-spec wiring that can be utilized in a number of different applications.
What Are Some Applications of Mil-Spec Wiring?
It is vital for mil-spec wiring to be consistently dependable and durable, as the cables are frequently used for critical functions that must run as smoothly as possible. At CMC, we provide a range of military grade cables to support the diverse needs of a number of different industries, including military and aerospace. All of our wiring solutions adhere to military specifications. We also specialize in several other military requirements, including Mighty-Mouse and Micro-D.
Exclusive Braiding Technique
One feature that differentiates our mil-spec wires and cable assemblies is our exclusive braiding technique, which offers a number of benefits. The braided wires are made using a tinned-copper shielding mixed with high-quality woven materials. This technique ensures reliability in your cabling assembly. It also creates an incredibly durable material with no need for shrink or molded transitions. Furthermore, wiring that uses this technique is not only attractive, but lightweight and easy to route, as well.
Features of Our Mil-Spec Wiring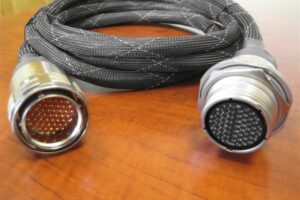 These cables are built to last, with a number of features designed to aid in their performance and longevity. They can withstand temperatures from -100° C to 260° C, support any number of applications with both high and low voltages, and process wires from four to 40 AWG.
We use specially calibrated tooling that enables us to properly crimp cables and wires. Additionally, our products are manufactured with Glenair, Amphenol, and ITT Cannon components. Whether or not you plan to use these cables in a military setting, they are incredibly dependable and thoroughly tested to ensure a high level of excellence and reliability.
Common Uses
Their dependability and longevity makes our custom military cables the ideal choice in a wide range of different applications. They are frequently found in military ground equipment, airborne systems, and inter-shelter communications, as well as mobile tactical field command platforms. Our mil-spec cables are ROHS, ISO 9001, and UL certified, and we work directly with many leading military and aerospace manufacturers.
Mil-spec wires and cables need to be sturdy and reliable. They are built for use in high-pressure situations where failure is not an option, and are frequently found in military electronics, which must function in harsh environments and extreme high temperatures. Mil-spec wiring can also be found in a wide variety of different applications and customized to best suit the project at hand. Our assemblies support various applications, including:
Unmanned aerial vehicles
Satellites
Avionics
Inter-shelter communications
& more!
Contact Us Today for Our Mil-Spec Wiring & Cable Assemblies
At Carr Manufacturing Company, we know that everyone's needs are unique. When you have a project, we will work alongside you every step of the way, listening to your initial concept and creating a prototype for your approval before finalizing your custom wire manufacturing.
Our top priority is building a long-lasting relationship with each of our customers, which we do by consistently designing and manufacturing high-quality products. No matter what your needs, we are here to help.
To learn more about our custom mil-spec wiring, contact us or request a quote today.