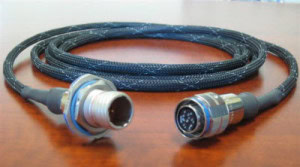 If you are designing products for military purposes, then you will need to use MIL-Spec cable assemblies. However, it is not just simply about using these types of cables. You have to use wires and cables with exact specifications according to the product and the application's requirement. Choose wrong, and the product may not function properly. This is why when creating a military electronic product, you need to pay attention to the military standards.
What are Military Standards?
Military standards, also known as MIL-Spec, are a group of specifications created by US Government organizations. They are the regulations that should be kept in mind when using cable assemblies in harsh military environments. They are particularly important for electronic devices that are exposed to chemicals, abrasive materials, or extreme temperatures. Mil-Spec wire can be used in various applications, including aircrafts, weapon systems, and military ground vehicles.
What do the Standards Comprise?
These standards are used primarily during the manufacturing of military cable assemblies. Cable manufacturers refer to the standards when deciding on various aspects of the wire or cable, such as:
Type of Application
Application Environment
Manufacturing Materials
Cable Construction
The standards are also referred to when choosing Mil-Spec electronic components. These include:
Bus-bars
Antennas
Ground wires
Airframe wires
Point to point wiring
Shielding and protective covering
Primary MIL-Spec Standards Organizations
There are a variety of military standards used by cable assembly manufacturers. However, the two most important organizations are the National Electrical Manufacturers Association (NEMA), and the Qualified Products List (QPL).
NEMA: This organization focuses on developing public policies for cable manufacturers, as well as technical standards.
QPL: As the name of this organization suggests, the QPL focuses on identifying different types of materials, which can be used in military projects. It also identifies cable product suppliers who can be approved for government projects.
There are a variety of regulations that come into play when creating Mil-Spec cable assemblies. By following the military standards, you will ensure that your products will comply with all the requirements of Department of Defense organizations.